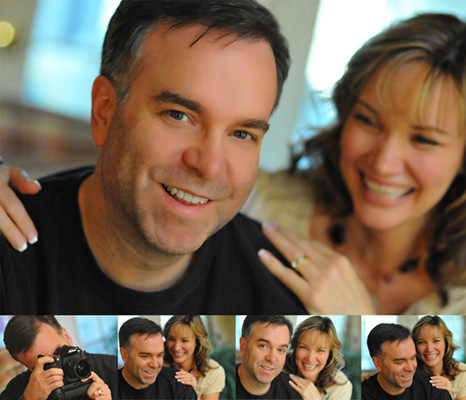 Welcome to our site, we give all honor to God for allowing us to have a career doing what we love to do. I have always enjoyed photography. At first, I spent most of my time photographing nature, family and friends. Several years ago, I went with a friend to my first professional wedding session. I call it my "awakening" because for the first time, I had a true vision of what I wanted to do with my life. A wedding is a very fast paced event with many lighting and portrait opportunities. It seemed to combine all of the photography skills that I had acquired and melt them into a wedding story. Besides, I was hooked on the romance, the emotion, the shear drama unfolding right before my eyes. Angela and I work as a team at all of our weddings. I noticed that Angela was able to get into places that were off limits to me. Her bridal dressing room candids are fantastic. She has a sensitive photographic style. To her credit, she is also exceptional with children. She is an incredible asset to our business and continually inspires me. I have been very blessed to have my best friend at my side.
OUR STORY
Angela and I met at a local football game. We dated all through college for almost four years. After graduation, I proposed to her. I suggested that she and I go on a picnic at Lake Chickamauga. It was a beautiful day, just like I had dreamed it would be. I placed the ring in a box at the bottom of the picnic basket full of food. I just knew that she would find it while we were getting our meal out. At first she didn't see the ring in the box at all. I sat there wondering how I was going to get her to look in the basket again. Finally, I had a plan. I asked her to get the desert out; thinking that she would search through the basket again. It worked. She picked it up slowly and she was speechless. Angela knew before she even opened the box that a ring was inside. It was an amazing moment for us. It felt like our lives together began at that moment. God has truly blessed our home with two beautiful girls, Jennifer and Lauren. While raising our girls, I noticed that they played house and dress-up a lot. After watching this "dress-up" process, I became convinced that most girls start planning their wedding at the age of two. After watching our girls mature and plan their own weddings, I gained a new appreciation of the thought and planning that goes into a wedding day. I truly look forward to capturing the wedding story for each couple as no two weddings are alike.
STYLE
I would define our shooting style as a blend of photo journalistic candid and traditional portraiture. The proper mixture of both styles makes the wedding album come alive with personality and feeling. Angela and I are continually searching for new methods and ideas for our portraits and wedding albums. I feel that all of the training, equipment and pure hard work that Angela and I put into our prints are well worth the investment that you will make. Realistically, our prints will be cherished in your family 100 years from now, long after we are gone. Your family will consider the images as heirlooms and will value them far more than you realize.
Our slogan "Capturing Life's Most Memorable Moments" totally sums up our commitment to you and your family. Thank you for visiting our website and I do look forward to talking to you soon.
I would love to hear from you. Please call my cell# 423-314-6911 or through our Contact Us page.